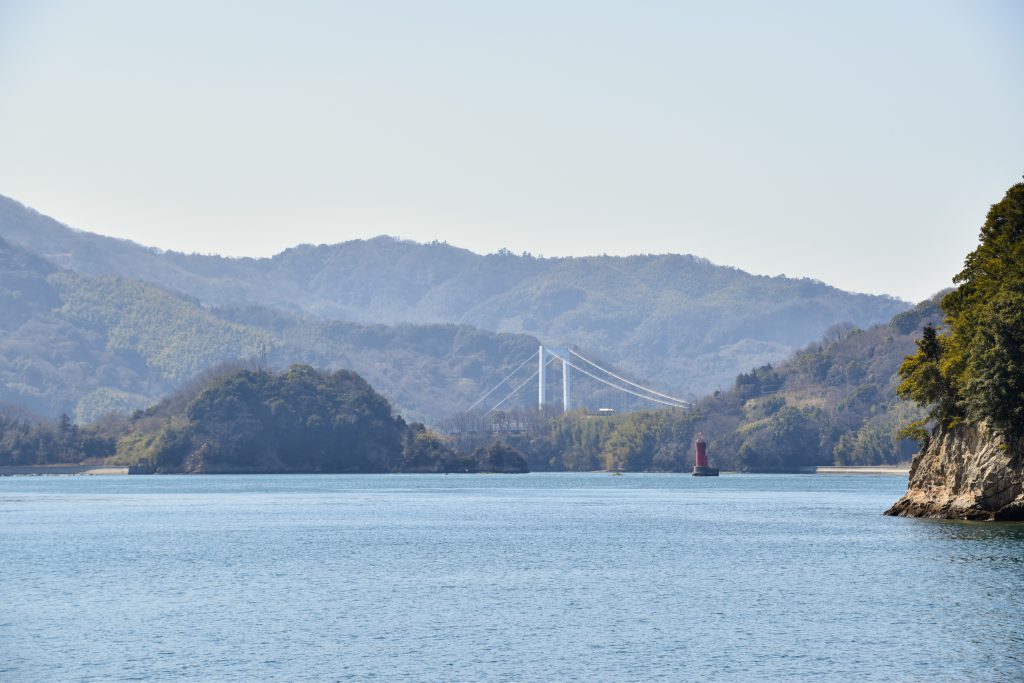 The Shimanami Kaido begins on Honshu in Onomichi City.
across the six islands of Mukaishima Ikuchijima, Omishima, Hakatajima
and Oshimbegins on Honshu in Onomich on Honshu in Onomichi City
HAKATAJIMA[伯方島]
Hakatajima, like neighboring Omishima, gets very short shrift from the Shimanami Kaido, skirting its western side for only about 5km. Approaching from the direction of Onomichi, the route takes you over a hill, past a shipyard and on to the Marine Oasis Hakata rest stop next to Hakata Beach. Here you can grab something to eat in the casual restaurant (as long as you make it there before last order at 2:30pm) and sample the areas speciality, salted vanilla ice cream. Next to the beach is a small Dolphin Park where visitors pay to feed, touch and take a swim with the resident dolphins.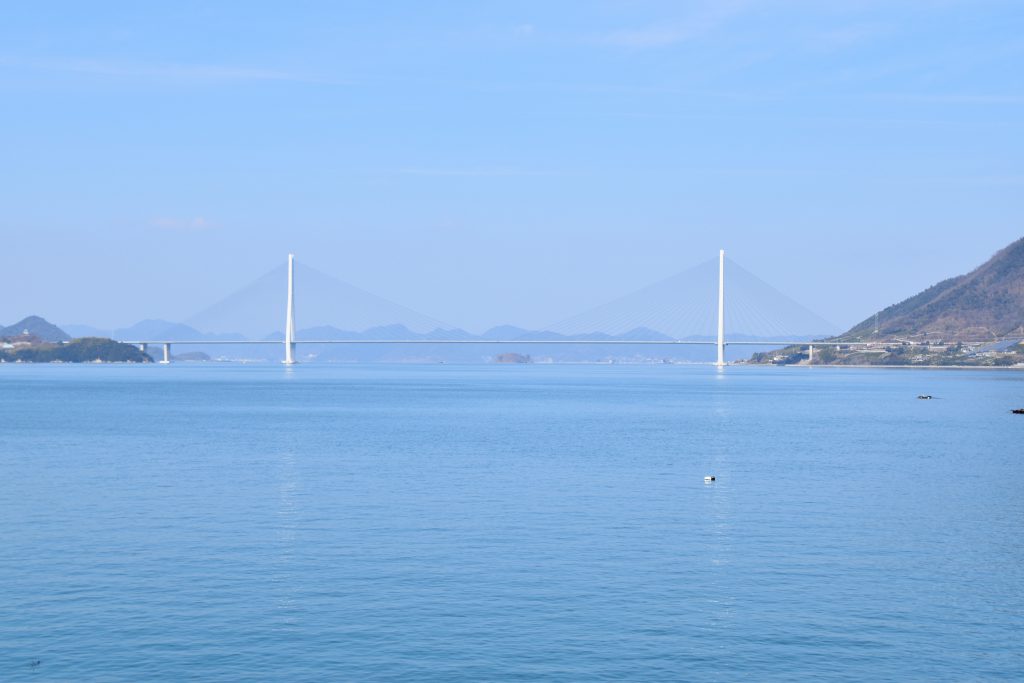 The Hakata Bridge which dominates the view from Hakata Beach carries most visitors onto Oshima, the closest island to the Imabari end of the Shimanami Kaido. However, taking the time to enjoy a loop of Hakata is very worthwhile. While it lacks any big tourist sights there is much to be enjoyed. At only 20km around and with few steep climbs, it is makes for a great self-contained bike trip or even walk or run. You can, of course, drive too. Hakata has some very nice beaches and some of the most picturesque camping locations in the Shimanami area.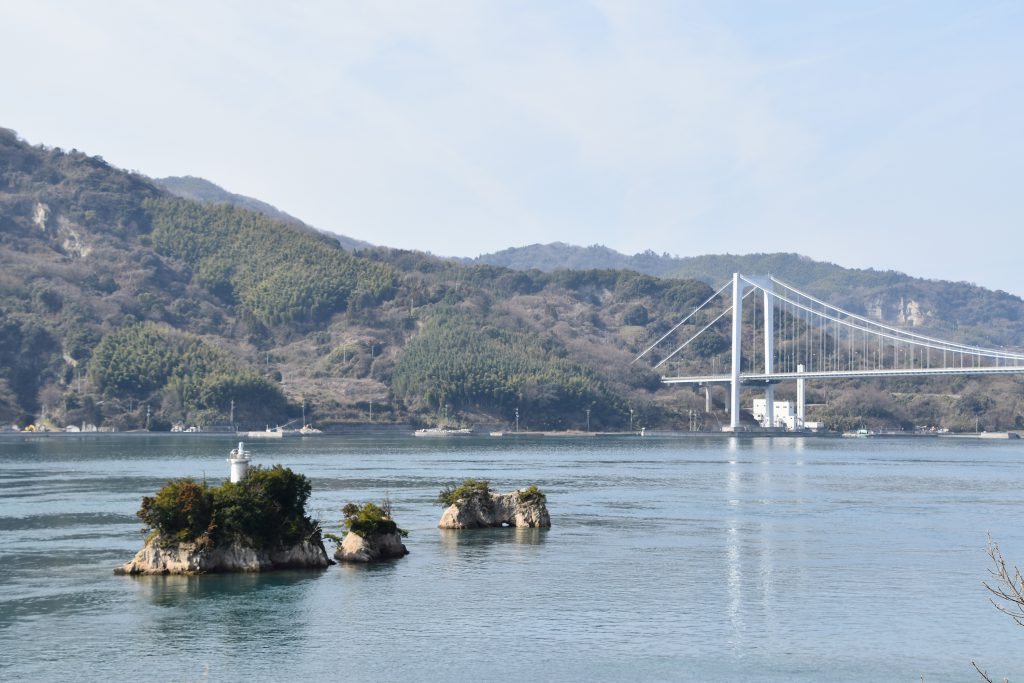 Heading anticlockwise from Hakata Bridge, the road offers beautiful views of a narrow channel punctuated by rocky outcrops said to resemble a hen and its chicks, all framed by the Hakata Bridge. The currents around here are fast and can be so treacherous that one part is called 'Funaori no Seto', which translates as "break boat strait". There are two simple, but well-maintained (and equipped with western toilets), campsites along this stretch of road which both offer great views over the channel and the boats, large and small, that pass through at regular intervals. A more basic, but free, campsite is on Michikajima, a little island which supports one the Hakata Bridge's towering supports.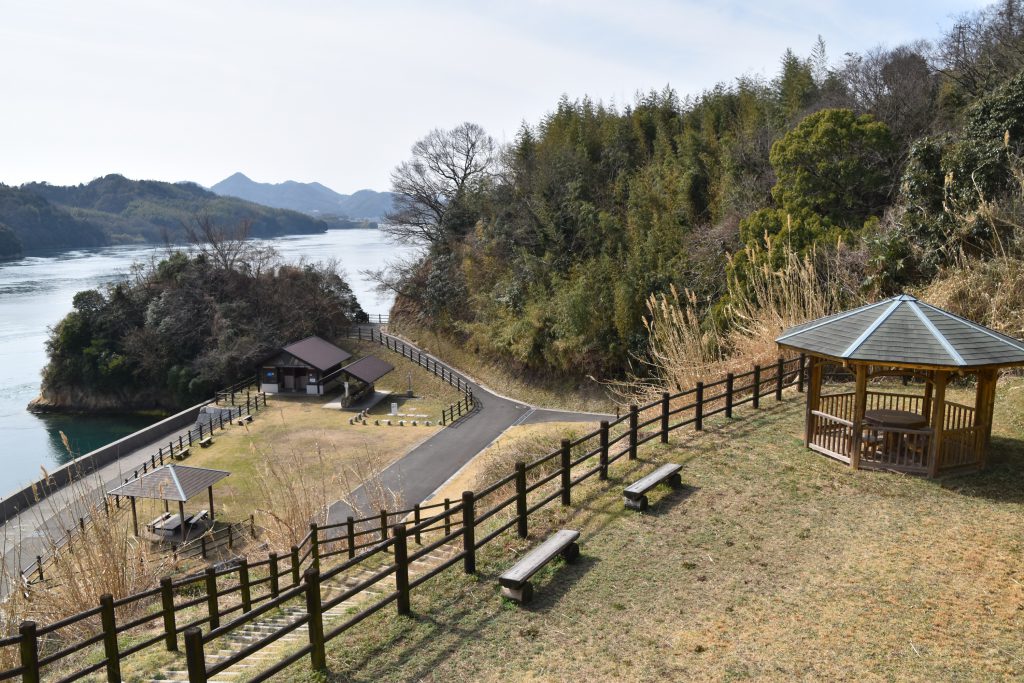 Further along the coast you can take a side road to Oura Beach which, for a Seto Inland Sea beach is both quite long and relatively clean. Returning to the main road which circles the island and continuing on in an anticlockwise direction, things get a little more built up. Hakata, of course, has its own small shipyard. It may be small, but the ships under construction and repair are huge. The road climbs to the Furusato Rekishi Koen, a museum with a hotchpotch of historical exhibits, before sweeping down to a stretch of coastline lined with lagoons employed by the Hakata Shio salt factory.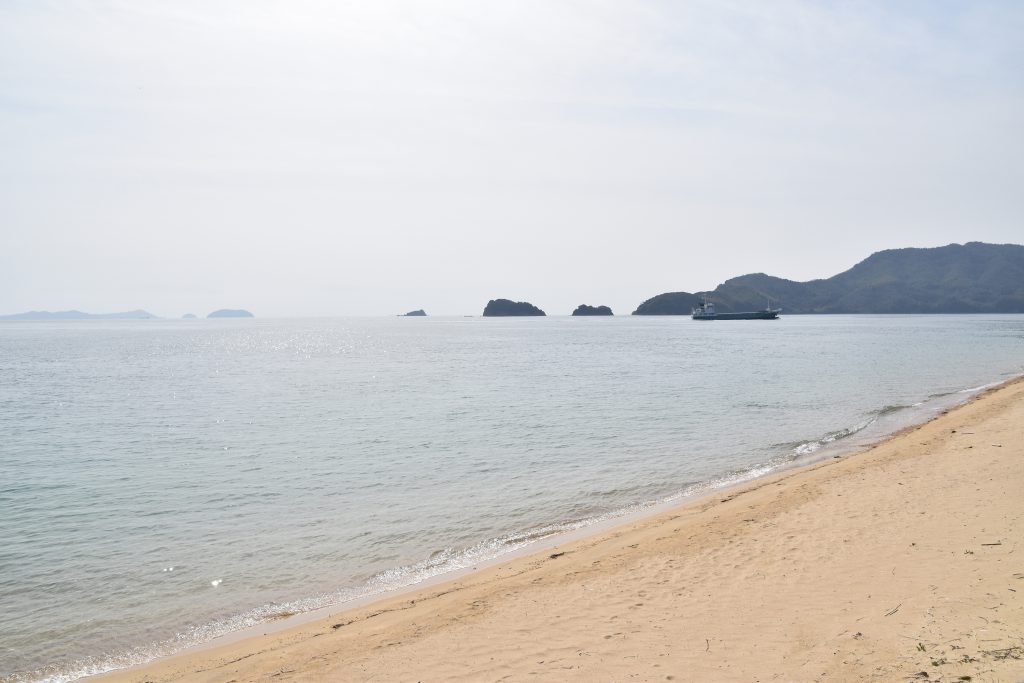 Just before reaching the end of the island loop, just a few kilometers from the Shimanami Kaido, there is a sign in several languages to Hirakiyama Park. There are many mountaintops that promise great views on the Shimanami islands, most with punishing steep approaches. It's a 2km climb to the top of 149m high Hirakiyama, but your efforts are well rewarded with an outstanding 360 degree view from the observation tower. Hirakiyama is covered with around 1000 cherry trees and, when in bloom, people flock there hoping to catch the sight of a blanket of pink sandwiched between a blue sky and the blue sea.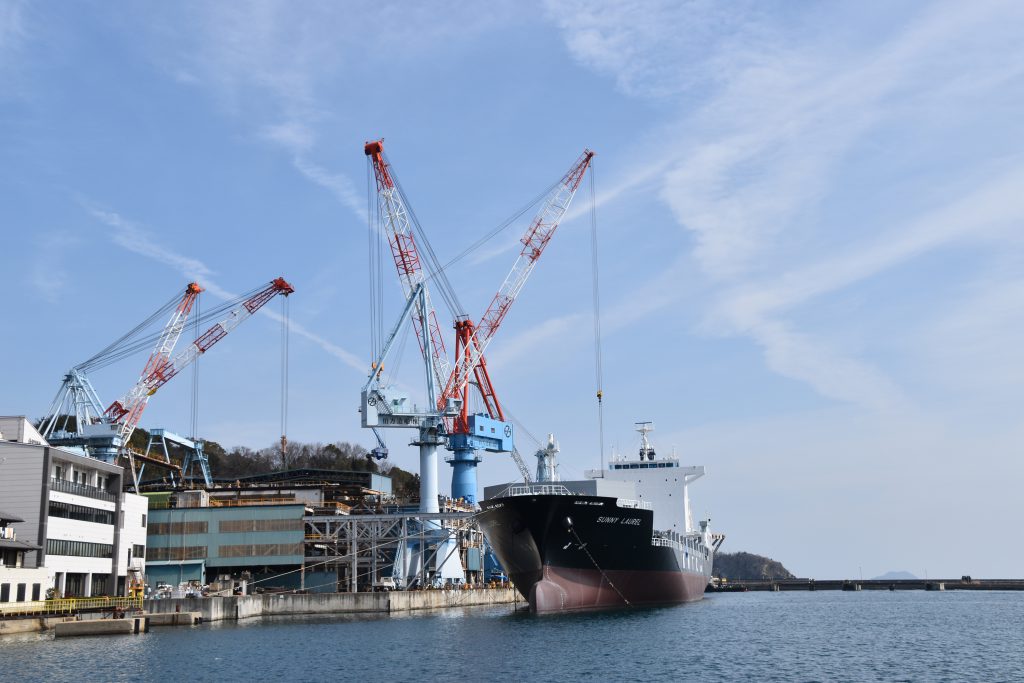 Marine Oasis Hakata [マリンオアシス伯方]
Marine Oasis Hakata houses a small restaurant where you can try local specialities like salty-broth ramen and salted vanilla ice cream as well get more common roadside fare. The building has seen better days, but neighboring Hakata Beach is very nice and is a very popular swimming spot in the hot summer months.

http://www.imabari-shimanami.jp/English-shimanami/English-no5.html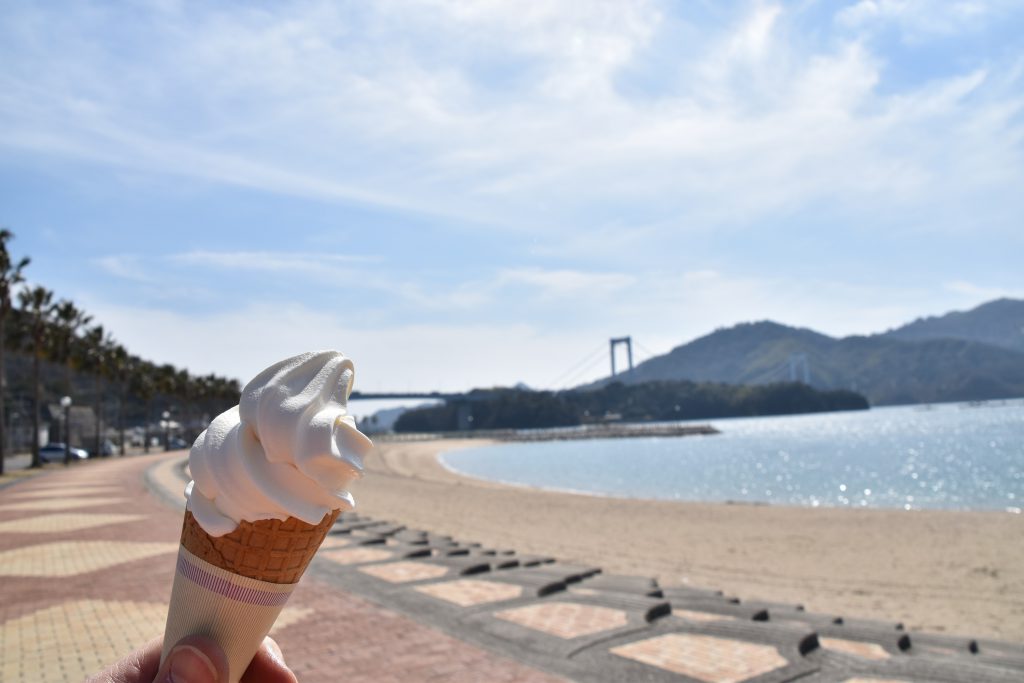 Funaori-no-seto [船折瀬戸]
Funaori-no-seto or 'break boat strait' is one of the many places in the Shimanami area where treacherous currents flow. The strait which flows past Niwatori-ko-jima, said to resemble a hen being followed by her chicks, can be viewed from a couple of lookouts along the road. Below the lookouts are two very nice campsites which can be reserved through Marine Oasis Hakata.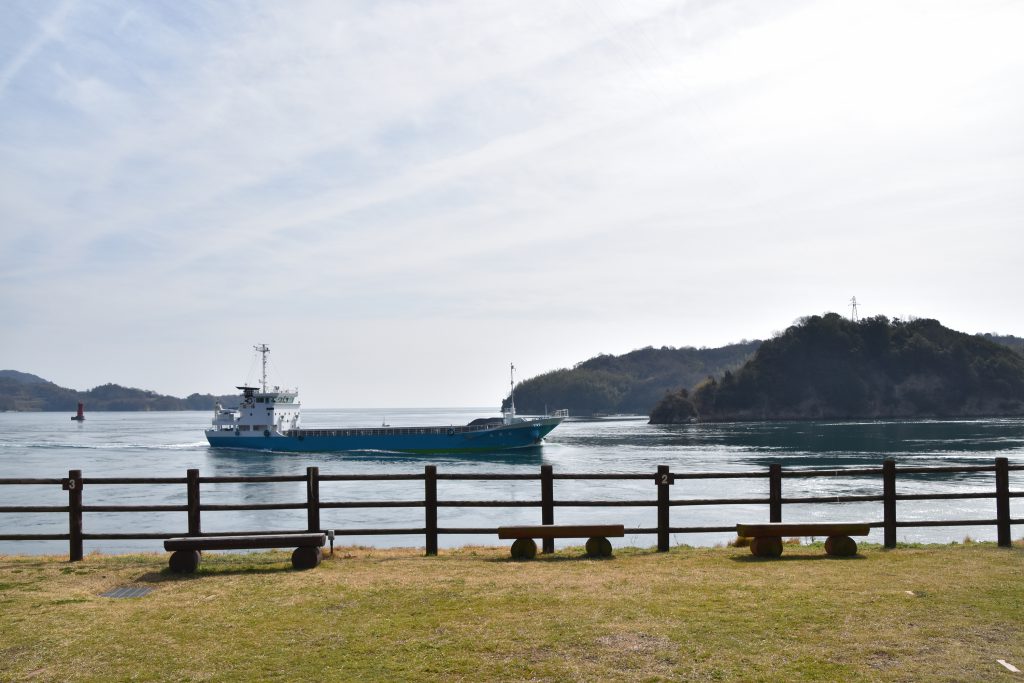 Patisserie T's Cafe Tamaya [カフェ玉屋]
Past Funaori-no-seto in the little town of Arouzu is a stylish cafe that has become a popular stop among Shimanami explorers looking for a mid-trip treat. This former Japanese wagashi sweet shop has been converted into a patisserie and cafe with great views and a nice terrace. Lunches include Croque Monsieur, curry, pizza, but it is essential that you leave room for dessert!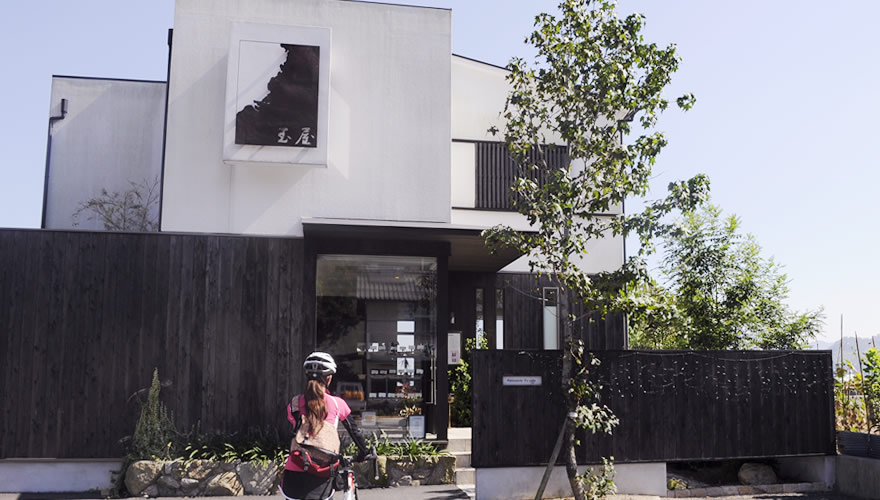 Hirakiyama Park [開山公園]
A lovely mountaintop park on top of 149m high Mt Hirakiyama. The observation deck provides wonderful views of the Shimanami area. On clear days you have great views of the Hakata-Oshima, Omishima and Tatara Bridges and can see all the way to the islands of the Yumeshima Kaido. The 1000 cherry trees this a place a must if you are lucky enough to be in the area during the cherry blossom season.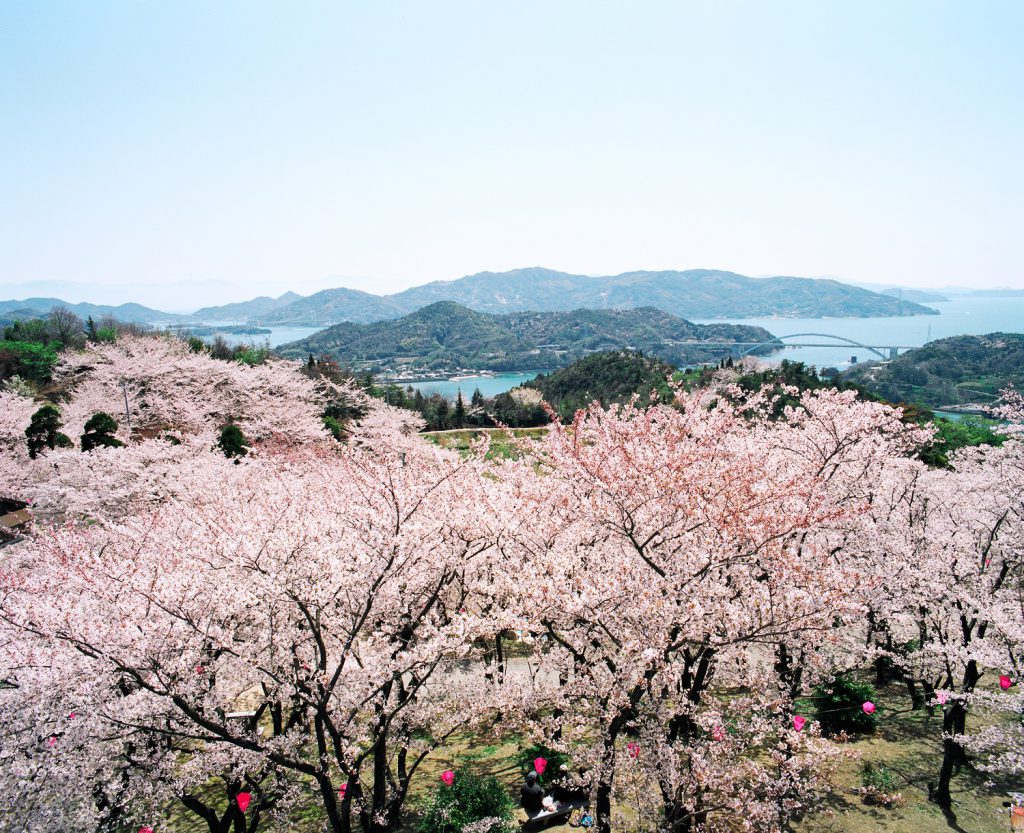 The Shimanami Kaido begins on Honshu in Onomichi City.
across the six islands of Mukaishima Ikuchijima, Omishima, Hakatajima
and Oshimbegins on Honshu in Onomich on Honshu in Onomichi City